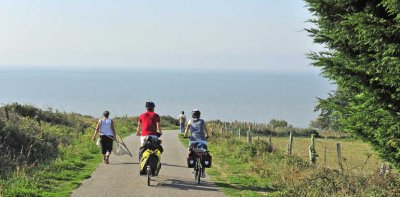 Velodyssée, near Nantes
Among all the cycling and cycling routes in France, Vélodyssée is the most Atlantic one. This 1200km long cycle route crosses Brittany and runs along the Atlantic Ocean to the Basque Coast, and offers 38 itineraries and green lanes throughout all regions of France. With the ocean in the background, swimming, tasting of seafood and visits are bound to be on the agenda. So do not hesitate and get on your bike to enjoy this ride in the open air.
Enjoy a break in our Vélodyssée-stage Hôtel
The hotel and restaurant L'Esplanade is on the way to one of the stages of Vélodyssée, near Nantes. This is indeed the starting point of the Le Pellerin - Saint-Brévin-Les-Pins route (or the one that makes Le Pellerin – Nantes).
This 37 km stage allows you to walk along the Loire, discover marshes and bocages and enjoy the Canal de la Martinière and its long flat roads. Typical bucolic atmosphere typical of the estuary of the Loire guaranteed... Then you arrive in Paimboeuf, former port appreciated by artists. And you will discover the estuary to immerse yourself in a new seaside atmosphere!
To make your life easier, the hotel L'Esplanade du Pellerin provides you a secure place to keep your bike.