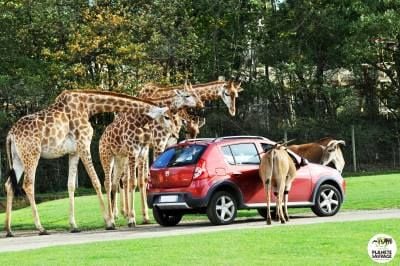 Planète Sauvage near Nantes
Zoo-safari in the open air and in the heart of the Loire-Atlantique, Planète sauvage is only 15 min from Nantes and 20 min from the hotel-restaurant L'Esplanade au Pellerin.
Planète Sauvage is the largest safari-zoo in France. A wildlife park that offers you an unprecedented experience: take your vehicle (or optional, opt for a guide for a 4*4 raid) to discover more than 1100 animals of 120 different species on the 10 km long safari-tracks. A pedestrian section is also available (4 km).
Enjoy a Safari in the nearby Planète Sauvage – Nantes
Various continents are represented within this 85ha animal park: Asia through the Temple of the Jungle, Africa through the Path of Bush, South America through the Path of the Incas and Europe through the dolphins of the Marine City.
Follow in the footsteps of wild animals and meet giraffes, maki catta, zebras, elephants, meerkats...