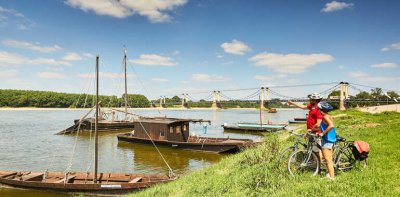 Discover the Loire by bike
The longest river in France, with a length of 1006 kilometers, the Loire is bordered by many cycling paths. A paradise for cyclists, the river offers, among other things, two main cycling routes: the Loire à Vélo and Vélodyssée.
The Loire à Vélo is a 900 km long cycling route that connects Cuffy (near Nevers) to Saint-Brevin-les-Pins (Loire-Atlantique). The Le Pellerin-Paimboeuf stage, which passes by our hotel-restaurant L'Esplanade, makes this accommodation the ideal starting point to enjoy La Loire by bike.
The hotel L'Esplanade, ideal accommodation for cycling through the Loire
For example, if you choose to do the Nantes - Saint Brévin Les Pins stage (65 km), you can cycle to Couëron, then take the ferry to cross the Loire. On your route, pay attention to the different works of the Estuary route! You will then pass by the village of Paimboeuf: a cluster of small fishing houses with colorful facades will brighten your journey. Then you will reach the ocean facing the sea snake in Saint-Brevin-les-Pins.
The hotel L'Esplanade is a promise for relaxing nights, letting you enjoy your bike rides along the Loire. And we provide a secure space to store your bike.