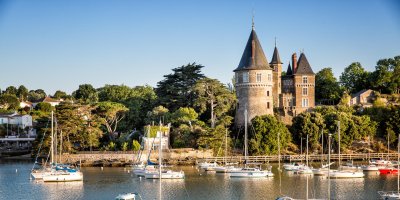 Hotel near Pronic
At the confluence of Brittany, the Loire and the Ocean, enjoy the gentle life of Pornic. The seaside resort, also referred as the pearl of the Jade coast, has developed around the old port where traditional fishing boats and sailing boats get moored. Lose yourself in its typical little alleys, stroll along its quays lined with terraces of cafes and restaurants, and continue on the path that returns to the new port of La Noëveillard.
Your hotel near Pornic, gateway to the Ocean
The hotel and restaurant L'Esplanade du Pellerin is only about thirty kilometers from Pornic. During your stay, you can treat yourself to a day trip to discover all the attractions of this jewel of the jade coast.
Pornic is a charming village with its port and its beaches of blond sand on which it is great to relax. It is also the occasion for a gourmet stroll by tasting an ice cream, a cheese rubbed with Muscadet or by visiting a craft brewery.